2022.04.23
Speaking to RIOCAM
When it comes to the art of photography, there can be no better person to be in the company of than RIOCAM.
A long-standing partner of ours at LIMITATO, his clever juxtapositions, layering and beautiful bold imagery has helped to create some of our best-loved pieces.
Here we speak to the man himself about his latest gallery in Miami, his artistry post editorial work, the famine form and the importance of constructing a narrative around his work. Enjoy!
Hey. How have you been and how has this last two years played out for you, especially with the pandemic?
Great to be speaking with you. I've been great! The last two years were very positive despite the horrible pandemic. It gave me the time to plan and focus on my fine art.
My commercial photography was slow but my fine art received an incredible response and sales. I'm very grateful for the outcome! It took hard work and much investment but it paid off.
Where are you right now and what are you doing?
Miami Beach is where I am at the moment, I do however travel to LA often but my home will always be sunny South Beach. I'm actually working on my next NFT project with SuperRare. 
You have recently opened a new gallery in Miami, can you tell us a bit more about it and the vibe?
It's a wonderful pop-up in the design district of Miami. In partnership with Prestige Imports and Curated. Hopefully, we will get a permanent store very soon. 
The gallery highlights my work printed in Alcantara, which is what I'm trying to push. I do have my other format in canvas print. We also carry the Riocam merchandise and collaborations ( LIMITATO ) with my images alongside amazing vintage super cars. It's also the house of my new fashion book Vol.2. The vibe is all about fashion plus cars in a very nostalgic way. 
After working for so many magazines and brands for themed shoots, has your vision and artistry evolved or changed?
Yes, has evolved indeed, 
My personal work will always continue to evolve, while maintaining the ultimate goal of my images: to entertain the subject. I have always said that if I weren't a photographer, I would be a writer, because you can create anything with a pencil…it's your imagination running wild. In my early years, I wanted to be a filmmaker because in this medium you can tell a full story from beginning to end. And that's my great love: telling stories. Whether that is through art, design, engineering, or the feminine form. My dream for these images you hold now in your hands is that they become more than a page you will simply turn…that they move you to pause for a moment and…feel something.
I had always wanted to find my own approach, a unique narrative, to fashion photography. My first volume spoke through a purely artistic, design-oriented perspective. This second volume tells vivid stories through the poetic imagery of some of the rarest, most iconic cars in the world. The parallel between the moving sensuality of both a car and a woman is tremendously empowering and that has become my ultimate goal: to capture the powerful interplay and dynamics between fashion, design, engineering, and the feminine form.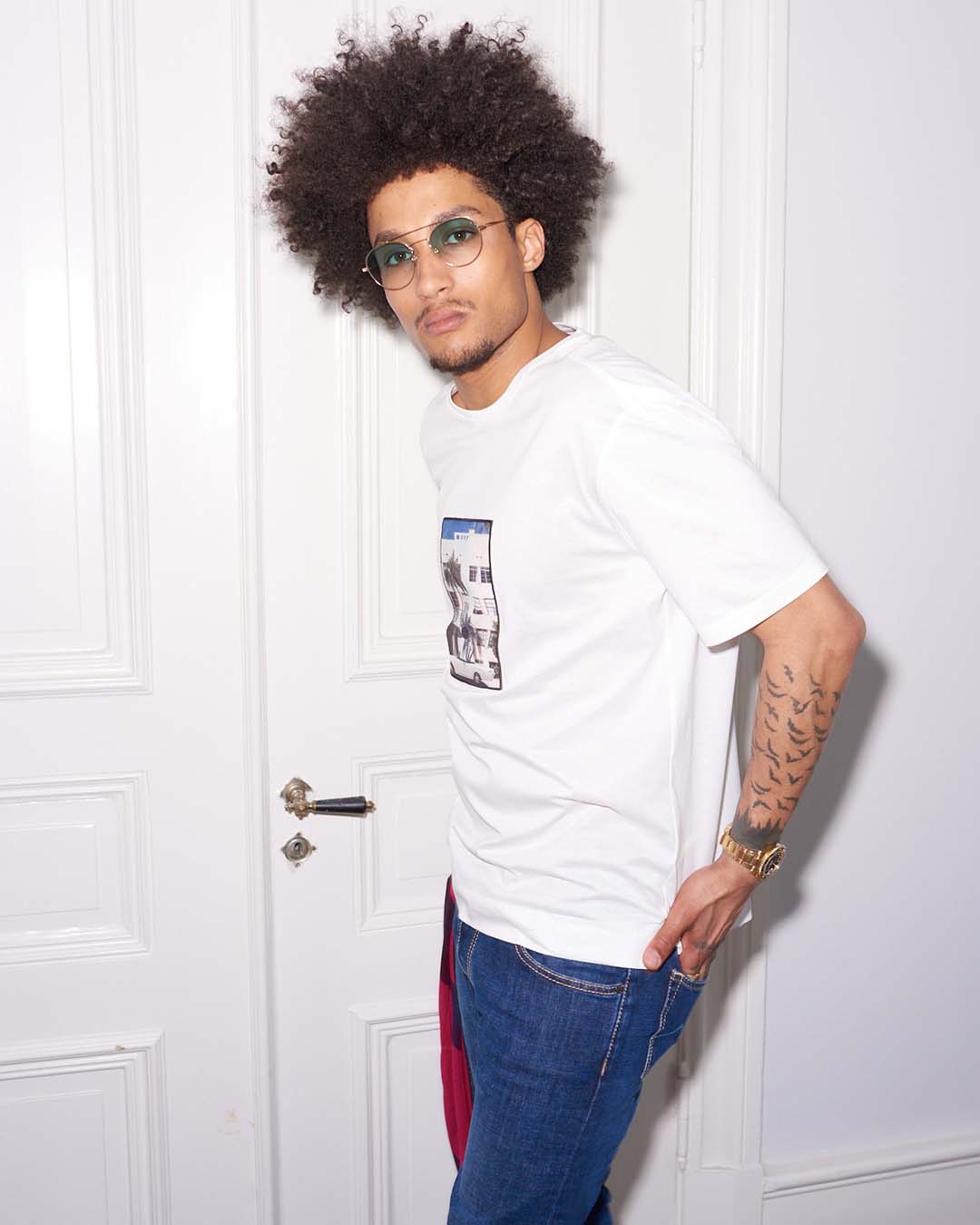 You create amazing images that conjure a narrative whether real or not. What drives that creative element?
Every time I shoot, I always try to capture and create the best possible photo because I want it to live through time, through many generations: just like Guy Bourdin photographs did for me. In my adulthood, I was so attracted to his photos because they remind me of what I'm doing now…the colours, the freedom that he had, the passion and pleasure he got from it. He has influenced my work immensely and the question for me has always been: How can I become him in this new era? He lived in the perfect epoch of fashion photography: the renaissance of self-expression of the '70s…there were no rules or boundaries.
And you like to layer photographs and images that you have captured along the way, what does that give to your pieces?
Cars, to me, are truly effeminate by nature—I see inspiration of female form within them and I believe this is inherently why they captivate men. Women will forever complement fine cars with beautiful lines as they are both pleasant and inviting to the eye. In many ways, women have been the inspiration for countless forms through the ages—not just cars, but fashion, architecture, and design. A woman lends a sort of mystery, a sense of deep enjoyment, to the engineering form.
By combining engineering, artistic design, high fashion, and the feminine form, these compositions gave me an even deeper respect for my process and style: playing with surrealism and ideas that will never occur in real life…like a woman in an extravagant dress and heels changing a wheel of a car with a crossbar. This is the amusing mystery I so admire: creating hyperboles and metaphors that turn imagination into reality, while also reversing cliches and stereotypes.
What is inspiring you right now. In the world of art, film, sport, music…anything and do you take things from different areas and incorporate into art - like a love of music for example?
Yes absolutely, right now what inspires me the most is Max Richter music, Guy Bourdin's Seduction, Stanley Kubrick's A Space Odyssey and the art of Rodkho. I try to incorporate these inspirations in my daily work.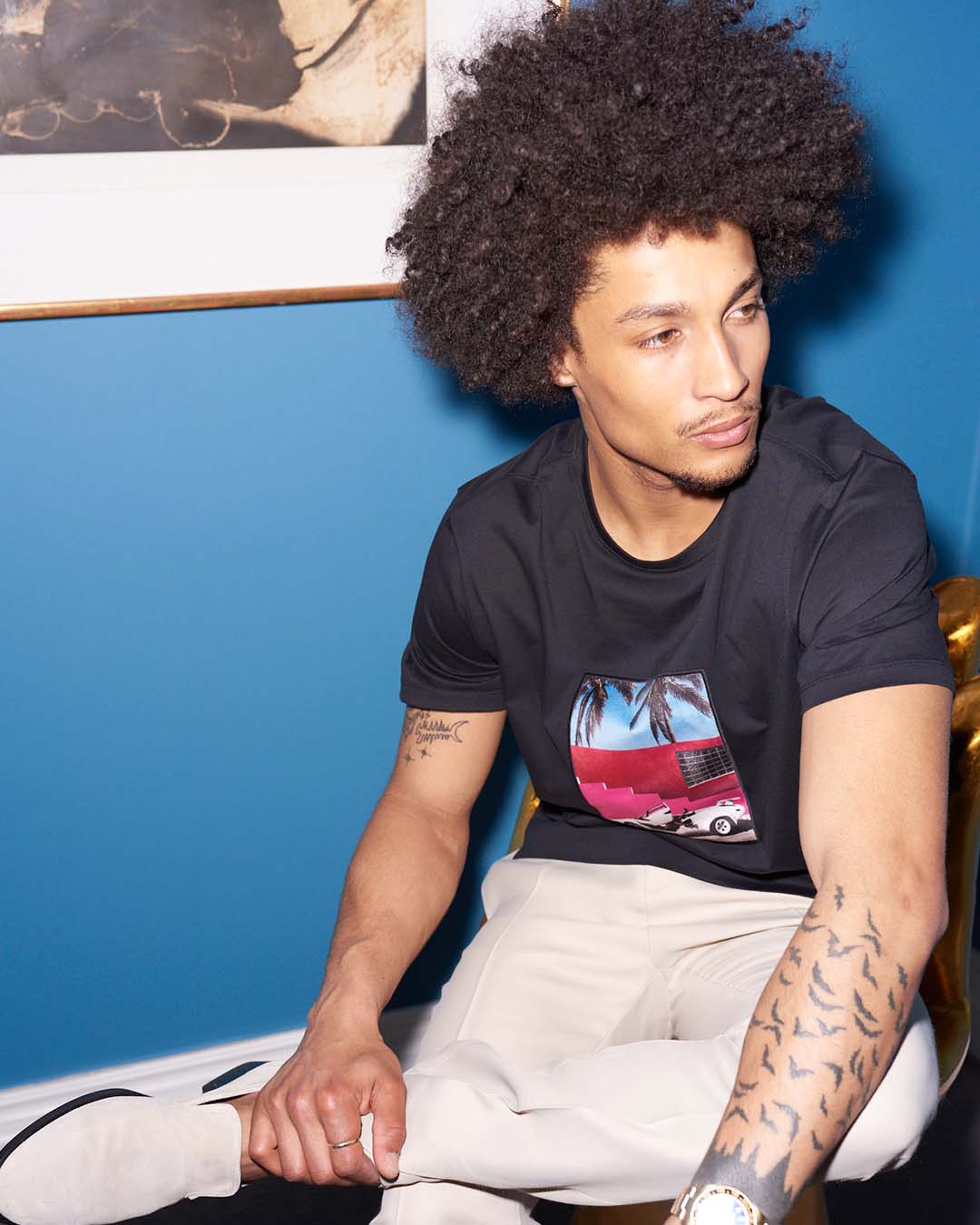 How has the relationship with LIMITATO evolved and what will this latest collection feature? What are you proud of?
It has evolved into telling better stories, corporating elements like colour, shoes, legs and shapes into the garments. 
I'm very proud of the Limitato team. They are like family to me. We have grown a lot through the years. 
What do you think of the Fine Wearable Art movement that LIMITATO is creating and what does it mean to you?
Finally there's a group of guys who make this happen! Who does not want a famous art or photograph in your own clothes? 
It means a lot to me, watching people wearing my photos is a very fantastic feeling. I create to please! so I pleased many...